Siena
Individual Italian Language Courses in 50 exciting cities throughout Italy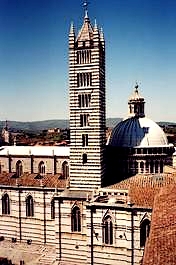 Siena is a city of 57,000 inhabitants and one of the most beautiful in Tuscany.
The "Piazza del Campo" is the heart of this historical marvel, which has kept its medieval structure and is full of wonderful buildings and Renaissance palaces. Obliged tourist visits are the cathedral, the "Sala del Pellegrinaio" in Santa Maria della Scala, the "Libreria Piccolomini" and the prestigious "Accademia Chigiana".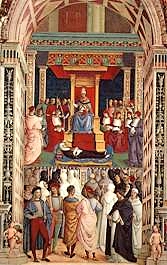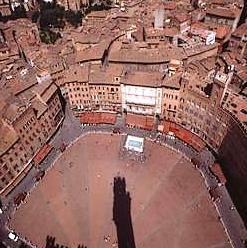 Worth seeing is as well the famous festival of "Palio", a horse race in the Piazza del Campo on 2nd and 16th August.
The appreciated wine varieties "Chianti" and "Brunello" are produced in the province around Siena.
Sweet-smelling trattorias, sweet spices, the sounds of the artisans and of spouting fountains, Fontebrande and the mystery of the Diana -a famous river running underneath Siena; all these make Siena so attractive and unique. …
Italian Language Vacation in Siena
For questions, details or suggestions about Italian language travel Tuscany, Educational leave or Learning Italian in Siena, fill in the form that you find here ("contact us"); we will reply to you as soon as possible.