Livorno
Individual Italian Language Courses in 50 exciting cities throughout Italy


Livorno, with around 180,000 inhabitants, is the second most important city of Tuscany and the site of the prestigious "Accademia Navale".
Within an hour drive to the main historical centres of the region, Livorno is an important commercial port and a stopover for cruises around the Mediterranean. The ferries to the islands of Corsica, Sardinia and Elba travel also from here.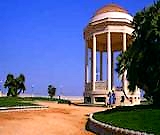 The paintings of Giovanni Fattori, which portray the beauty of the typical regional landscapes, can be observed in the Fattori museum.
Worth visiting are as well the remarkable fortification and canal systems, and in the surrounding area the renowned seaside resorts of Quercianella and Montenero, with its sanctuary and its magnificent views.
Italian Language Vacation in Livorno
For questions, details or suggestions about Italian Language vacation in Livorno, Educational leave or Language Schools in Livorno, fill in the form that you find here ("contact us"); we will reply to you as soon as possible.