Pisa
Individual Italian Language Courses in 50 exciting cities throughout Italy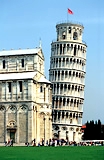 Pisa is located towards the western area of Tuscany, and its origins date from as long as 3.000 years ago. During that time, a settlement started being built up at the seaside and gave origin to what today is one of the most famous cities of the world.


This way, the historical richness of Pisa is amazing due to its great amount of years and this can be observed in the buildings which have remained through the pass of time and which show the different époques through which the city has passed.
Italian Language Vacation in Pisa


For questions, details or suggestions about Italian Language vacations in Pisa, Educational leave or Italian language travel in Tuscany, fill in the form that you find here ("contact us"); we will reply to you as soon as possible.







Italy | Tuscany | Castiglioncello | Cecina | Florence | Livorno
| Lucca | Pisa | Siena | Volterra | Sailing in Isle of Elba