Firenze / Florence
Individual Italian Language Courses in 50 exciting cities throughout Italy

The centre of the Renaissance , one of the world's most beautiful cities, Florence has 403.000 inhabitants and is the capital of Tuscany.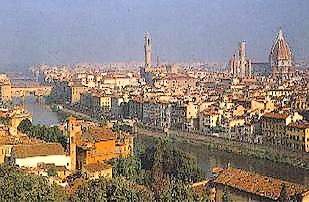 Florence was founded in 59 BC as a settlement for retired Roman soldiers. Over the next millennium, a small population struggled under successive Byzantine, Goth, Lombard and Frankish rule. The population began to grow from the tenth century onwards.

It is during the Renaissance that Florence assumes its crucial role in European and world history: Skilled in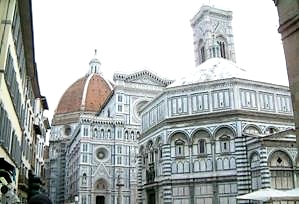 both trade and banking (The Medici were to finance many of the adventures that opened up trade routes around the world), the city grew staggeringly rich. The families liked to flaunt their wealth and money was poured into patronage of the arts, making of Florence a focus of attraction for artists, sculptors, architects and musicians.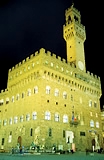 The 20th century was in many ways disastrous for Florence. The city was one of Mussolini's most faithful strongholds and was badly damaged during the Second World War by the retreating Germans, who blew up all its bridges except the "Ponte vecchio". Devastating floods ravaged the city in 1966 causing inestimable damage to its buildings and artworks, some of which are still being restored.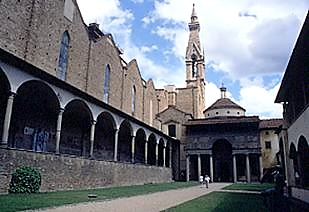 The Uffizi Gallery is one of the most important museums in the world. It holds the best collection of Italian Renaissance art, with works by masters such as Botticelli, Titian and Michelangelo.
The cathedral ("Duomo"), designed by Arnolfo di Cambio at the end of the 13th century , is the symbol of Florence with its cupule (Campanile di Giotto) and the Baptistry.

Erected during the Roman times, the "Ponte Vecchio" is the most ancient and photographed bridge in Florence. It is made up of three arches and two wide arcades on each side housing the famous and unusual "botteghe" (jewelleries).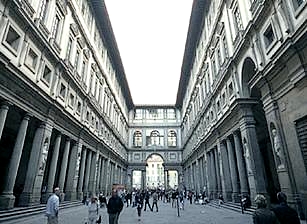 The statue of Michelangelo´s "David" is in the Museum of "Academia", Europe's first school of drawing. This museum is mostly famous for its collection of Michelangelo´s sculptures and an extensive collection of 15th and 16th century paintings.

The church of "Santa Croce" is also worth seeing. lt was built in 1294 by Arnolfo di Cambio. It holds the tombs of some famous artists, scientists and writers who were born or lived in Florence, like Galileo Galilei, Ugo Foscolo, Michelagelo or Gioacchino Rossini. Its many chapels are beautifully decorated, some of them with frescoes by Giotto.
Italian Language Vacation in Florence
For questions, details or suggestions about Italian Language vacation in Florence, Educational leave or Language Schools in Florence, fill in the form that you find here ("contact us"); we will reply to you as soon as possible.