Lucca
Individual Italian Language Courses in 50 exciting cities throughout Italy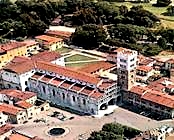 Lucca is quite a particular city, and in a way, magical. With about 80,000 inhabitants, it is encircled with a 4-kilometre-long wall. The historical development of Lucca can be observed in its abundant architectural treasures, from the early Roman period, to the Romanesque or the most sumptuous Renaissance, resulting in a combination of unsurpassed harmony.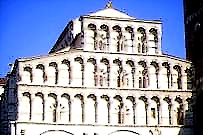 The superb churches of San Michele and San Martino blend splendidly with the noble palaces built four or five hundred years later. The old market square, built on the remains of the Roman amphitheatre, is also worth seeing.
The old grocery and pastry shops situated in the via Fillungo, offering the most exquisite local specialities, the wine taverns, the characteristic trattorias and the restaurants bear witness to the long culinary traditions of the Lucchese, handed down over the centuries.
Italian Language Vacation in Lucca

For questions, details or suggestions about Italian Language vacations in Lucca, Educational leave or Italian language travel in Tuscany, fill in the form that you find here ("contact us"); we will reply to you as soon as possible.