Say Veneto and you immediately think of Venice. St. Mark's Square, the great lagoon, the gondolas on the Grand Canal, the Bridge of Sighs, the wild Carnival, the great architecture, the artistic masterpieces, the sumptuous palazzi, the magic of the narrow streets, the International Film Festival, the Biennale Art Exhibition, the Fenice Theatre, the prestigious universities, the many indications of the splendour and ostentatious wealth of a marine power that dominated the Mediterranean for five centuries. But the Veneto is not just Venice, and its landscape does not just consist of the sea. The mountains of the Veneto have a rare beauty.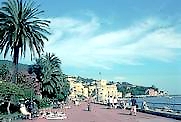 The Dolomites seen from Cortina d'Ampezzo, the famous holiday resort in the province of Belluno, are a fabulous spectacle. And the whole area of the river Po delta, in the province of Rovigo, is a unique environment of exceptional natural interest. At Padua, an ancient and learned city, the majestic Basilica that houses the relics of S. Antonio attracts millions of pilgrims every year.
The attraction of the Palladian Villas is also strong, named after their creator, the great architect Andrea Palladio who, in the sixteenth century, planned and realised buildings whose harmonious beauty is still capable of astonishing, such as La Rotonda in Vicenza. And during the summer at Verona, the city immortalised by Shakespeare in his Romeo and Juliet, a night at the opera in the Arena should not be missed.n.