Taormina
Individual Italian Language Courses in 50 exciting cities throughout Italy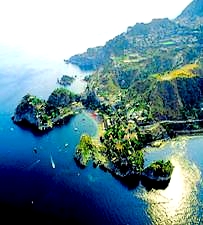 Since the end of the nineteenth century Taormina has become a well known international
tourist resort whose visitors are always captivated by its charming atmosphere, its natural unspoilt beauty, its all-year-round mild climate, its local culture and ancient history, the friendship of its citizens and its perfect modern organization of touristic services.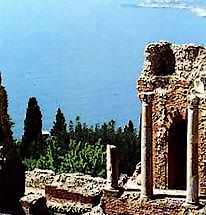 Goethe stayed in Taormina during his journey through Sicily and grew strongly impressed by the beauty of the city and its surroundings.
It is impossible to understand contemporary Sicily without knowing something about her turbulent history. The island, the largest and richest of the Mediterranean, has a more eventful past than any other in this sea. Throughout the ages, every great nearby civilisation has at one time turned its attention towards this island, transforming its landscape and people but never conquering its independent spirit.
Sicily has been the crossroads of the ancient world : Phoenitians, Carthaginians, Greeks, Romans, Arabs, Normans, Aragonese and Bourbons have ruled over the island, all contributing to its magnificent artistic legacy.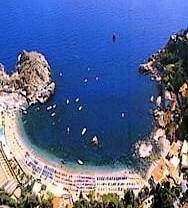 The amount of archaelogical treasures is stunning: From the world famous "Valley of the Temples" in Agrigento, to hundreds of other wonders like the impressive Greek theatres of Taormina, Siracusa and Segesta, the temples of Selinunte and Segesta, the Greek colonies of Naxos, Lentini, Tyndaris and Eraclea Minoa, or the beautiful mosaics of the Roman "Villa del Casale" in Piazza Armerina.
A rich heritage from the Arabs and the Normans, from the medieval and baroque periods can also be enjoyed throughout the island, and Taormina is an ideal starting point to discover them.
Italian language courses in Taormina
For questions, details or suggestions about our Italian Language schools in Italy, Intensive Italian courses or Requests for educational leave, fill in the form that you find here ("contact us"); we will reply to you as soon as possible.