Catania
Individual Italian Language Courses
in 50 exciting cities throughout Italy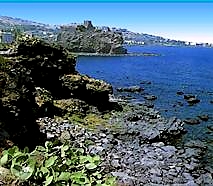 Situated at the foot of the Etna on the Ionic coast, Catania is the second most important city in Sicily. It is an important industrial centre and agricultural market, thanks to the production of citrus fruit and almonds in the surrounding region.
The ideal seasons to visit Catania are late spring and autumn, when the citrus fields are in full bloom, offering a beautiful scenery.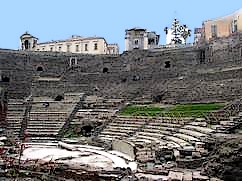 The summer is very hot at the beach and on the planes. It is the right time to undertake excursions to the mountains, which provide coolness and shade.
The Etna and the area around, including some villages, is a protected natural area, beautiful not only for its eruptions and lava flows but also for its fascinating environment, with unique species of flora and fauna.
Italian language courses in Catania
For questions, details or suggestions about our Italian language courses Sicily, Italian language schools in Catania or Educational Leave in Italy, fill in the form that you find here ("contact us"); we will reply to you as soon as possible.