Rimini
Individual Italian Language Courses
in 50 exciting cities throughout Italy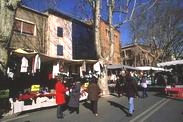 Rimini's history began 800,000 years ago, when prehistorical groups settled along the coastal areas. The city became very important during the Roman period, which can be seen in prestigious monuments such as the Arch of Augustus, Tiberius Bridge and the Amphitheatre.
The crisis in the Roman world was marked by destruction, caused by invasions and wars, but also by the spread of Christianity: the famous Council of Rimini was held here in 359.
An idea of what the city was like in the nineteenth century is provided by the palaces built along Corso d'Augusto and in particular by the theatre, which was designed by Luigi Poletti and succeeded in translating into Neoclassical forms the ambitions of the ruling classes.
However, the biggest revolutionary change was the foundation in 1843 of the first bathing establishment and
the Kursaal -built to host sumptuous social events- which became the symbols of Rimini. In just a few years the marina underwent a considerable development and the constructing activity grew rapidly, causing the city to be called 'the city of small villas'. At the beginning of the twentieth century, the Grand Hotel, the city's first important accommodation facility, was built near the coast and soon became the emblem of a new kind of tourism.
The city was severely damaged by heavy bombardments during the Second World War and found itself on the front lines of the battle. An impressive reconstruction work began after the liberation on 21st September 1944, culminating in the explosive development of tourism that has created a new urban reality.
Italian Language Schools in Rimini
If you still request more details on Italian Language Travel Rimini, Educational Leave or Italian language courses in Emilia-Romagna we kindly invite you to contact us at any time.
Italy | Emilia Romagna | Bologna | Ravenna | Rimini