Trento
Individual Italian Language Courses in 50 exciting cities throughout Italy

In the valley of the river Adige, Trento is a city that hides from the hasty traveller. In the rich paintings on the walls of the sumptuous palaces we can discover the faces of those illustrious visitors of long ago, like German emperors on their way to Rome, or those bishops and cardinals who, for eighteen years, filled the churches and palaces for the Holy Council.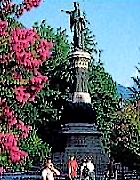 Behind these masterpieces you can discover the real essence of this city, open to the cold north wind which blows on the Gothic spires, and to the soft Mediterranean breeze scented with holm oak and pine that drifts into the spacious Renaissance loggias. In this game of exciting contrasts, Trento is called "the smiling city". It offers hospitality, ancient traditions and pleasant impressions to its visitors.
Italian language courses in Trento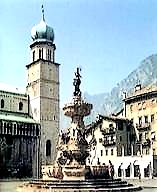 For questions, details or suggestions about Studying abroad and learning Italian, Italian language schools in Italy at Trento or the ARCI-Pasolini Language Center, fill in the form that you find here ("contact us"); we will reply to you as soon as possible.

Italy | South Tyrol | Bolzano | Trentino