> back to map of Italy
Some information about the region of Abruzzo:
Abruzzo holds a record: 30 per cent of its territory is protected by environmental legislation. Abruzzo No other region in Europe can boast as much. Not without good reason is it known as "the region of parks". Three national parks, a regional park and many protected sites and nature reserves. In a region like this, it seems natural that the regional capital is called L'Aquila ('The Eagle'). Dominated by an imposing sixteenth-century castle (which houses the National Museum of Abruzzo), L'Aquila has splendid civic and religious monuments from the medieval and renaissance eras. On the coast of Abruzzo (which vaunts popular bathing areas) one of the most popular locations is Pescara, birthplace of Gabriele D'Annunzio.

The house where he was born is now a small and evocative museum. At Chieti there is an important National Archaeological Museum, well-known for the modernity and effectiveness of its exhibitions (for which it has won prizes). The "show piece" of the museum is the Warrior of Capestrano, a funerary statue of the sixth century B.C., found in the province of L'Aquila in 1934. At Teramo the stupendous fifteenth-century Antepedium (inside the cathedral) made by the great goldsmith of Abruzzo, Nicola da Guardiagrele, should not be missed. But Abruzzo is surprisingly rich in architectural and artistic treasures, almost as much as it is full of natural treasures and folk traditions (such as the "festival of the serpents" in Cocullo, which brings thousands of people to this tiny village on the first Sunday of May).
Abruzzo - some links to this region: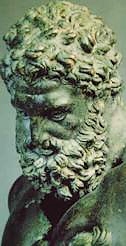 http://www.regione.abruzzo.it/turismo/en/index.html
http://www.sangritana.it/
http://www.gruppolapanoramica.it
http://www.baltour.it/autolinee/index_azienda.htm
Travel and traffic routes, excursions:
http://www.abruzzo-airport.it/
http://www.trenitalia.com/
http://www.traghettionline.it
http://www.autostrade.it/
http://www.edidomus.it/auto/servizi/infotrafic/avvio.cfm