Vieste
Individual Italian Language Courses
in 50 exciting cities throughout Italy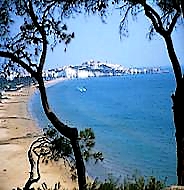 Vieste is a town in the eastern part of the Gargano region. It is surrounded by two long sand beaches and is a popular holiday destination for tourists from all over the world. The town rises on a peninsula, on whose flat section we can find the 19th century and modern quarters. The old city stands on a higher promontory, from medieval times, with its narrow, winding streets.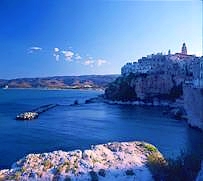 In this part we can see the typical local houses with their stairways (called "mignali") attached to the building by means of small archs. International tourism has developed since 1963, so today you´ll find camping sites and hotels along the coast which provide accommodation for thousands of tourists and offer them a placid and relaxing vacation. Thanks to its special situation Vieste is a windsurf paradise.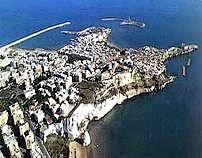 Those wanting to see more can join organized tours, for example to visit the fascinating sea grottos along the southern coast of Vieste or the Tremiti Islands, the Michael Grotto in Monte S. Angelo, the grave of Padre Pio in San Giovanni Rotondo, the karstic caves in Castellana, The Safari Zoo in Fasano, the town of Alberobello with its typical houses (trulli), or have a picnic with family or friends in Foresta Umbra, that is nearby.

The wonderful climate, the unending forests, the beauty of nature, the relaxing beaches, the little picturesque villages, make an ideal place of vacation.
Italian language courses in Vieste
For questions, details or suggestions about our Italian language courses in Vieste, about Educational Leave or Italian language courses in Puglia, fill in the form that you find here ("contact us"); we will reply to you as soon as possible.